A Queensland man in his late 30s has died of a "probable" COVID-related illness, authorities say, with the state recording 4,249 new infections in the latest reporting period.
Key points:
Testing is being done to confirm whether the man who died had the virus
Ten people are currently in intensive care, one person is on a ventilator
Premier Annastacia Palaszczuk says Queensland has secured 18 million rapid antigen tests
Chief Health Officer John Gerrard said the man "died suddenly in his home on the Gold Coast on Sunday night" and testing was underway to confirm whether his death was COVID-related.
"All I would say very strongly is that it's very, very unusual for a young man to die suddenly from COVID-19," Dr Gerrard said.
"So it needs further investigation exactly what has happened here."
He said it was believed the man who died had been vaccinated.
Dr Gerrard said the death had been referred to the state coroner for investigation and the COVID link to the man's death was based on a positive rapid antigen test.
"We don't even have confirmation of the diagnosis … I should make that clear," he said.
There are 10 people in ICU in hospital and one person is on a ventilator.
Dr Gerrard said 147 people were in hospital receiving treatment specifically for COVID-19 and 39 of those are unvaccinated.
"Which is disproportionate when you consider that more than 85 per cent of Queenslanders are in fact vaccinated," he said.
'We just have to assume that all of us are going to be exposed'
Dr Gerrard said as of Sunday there were "about 90" COVID cases linked to a cluster in the Aboriginal community of Cherbourg, 250 kilometres north-west of Brisbane.
"Most of those people are in their 20s and 30s, two patients are in Toowoomba Hospital and I understand one of them is in the intensive care unit but not on a ventilator," Dr Gerrard said.
The first case was confirmed in Cherbourg last Wednesday.
Dr Gerrard said the "vast majority" of people with COVID-19, particularly young people and the vaccinated, have experienced mild illness but serious illness was possible.
"We have over 20,000 active cases [in Queensland] and only one patient on a ventilator last night.
Premier Annastacia Palaszczuk warned older Queenslanders who were yet to receive a vaccine booster to limit their movements in the coming weeks.
"If you are elderly and you haven't had your booster, please think seriously about where you are going," she said.
"Limit the number of large gatherings that you are attending because during this time and we know that we're … looking at having a peak in early February."
COVID-19 testing system under strain, rapid antigen test stockpile secured
On Sunday the state reported 3,587 new infections, which was smaller than authorities had expected, likely due to reduced testing over public holidays.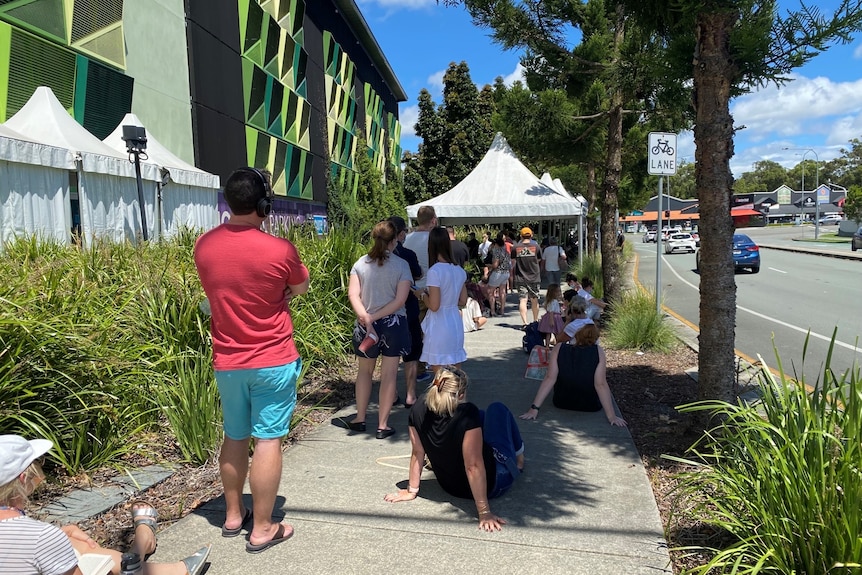 However, testing queues at clinics across the state have continued to be lengthy on Monday morning.
"We know there has been a strain on the testing in Queensland as there has been in every state of Australia in every country of the world," Dr Gerrard said.
"There has been significant demand on the Gold Coast and we are increasing our capacity down there."
Frustration was growing on the Gold Coast on Monday due to the limited availability of COVID testing amid heavy demand.
The testing site at Robina was closed for the public holiday and the only one in the region at Southport was closed this morning after reaching capacity.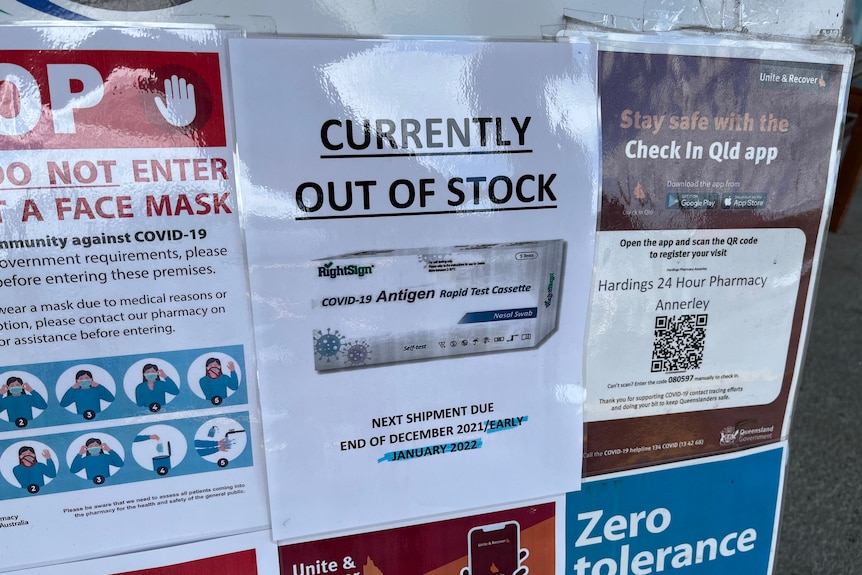 Ms Palaszczuk said she also had some "good news" on the testing front.
"I can also advise that we've been able to secure a stockpile of 18 million rapid antigen tests," she said. 
"This is a big issue for people out there wanting to get rapid antigen tests, I know it's a topic of conversation everywhere I go. 
"So we'll be moving as we as we get supplies in, we'll be releasing those supplies, but also been speaking with the pharmacies … they're going to be getting more stockpiles in over the coming weeks as well."
Is Omicron any worse than the flu?
Gold Coast Mayor Tom Tate said he had contacted Dr Gerrard to ask whether the Omicron variant of COVID-19 , which was dominant in the state, was mild enough to simply be treated like an influenza outbreak.
"When you look at the data, it appears … it's not as virulent as the flu," Mr Tate said.
"I'm asking the question that if that's the case, people are saying well why so much restriction and should those restrictions be lifted further so that we can get back to our livelihoods and treat Omicron as the flu."
Dr Gerrard said it was "not a totally illegitimate question" but that COVID posed a greater threat. 
"The first thing to say is the number of cases we will be seeing with Omicron will be vastly greater than that we experience in a typical influenza seasonal epidemic," he said.
"So that has a huge impact on the hospitals.
He said authorities still needed more data to determine the likelihood of ending up in hospital with Omicron.
"But the big problem is the sheer volume of people that are going to get this virus. That's where the big problem will arise," Dr Gerrard said.
He said staffing at hospitals was already stretched because of the number of people being furloughed due to potential exposures.
There are 20,239 active COVID-19 cases in the state.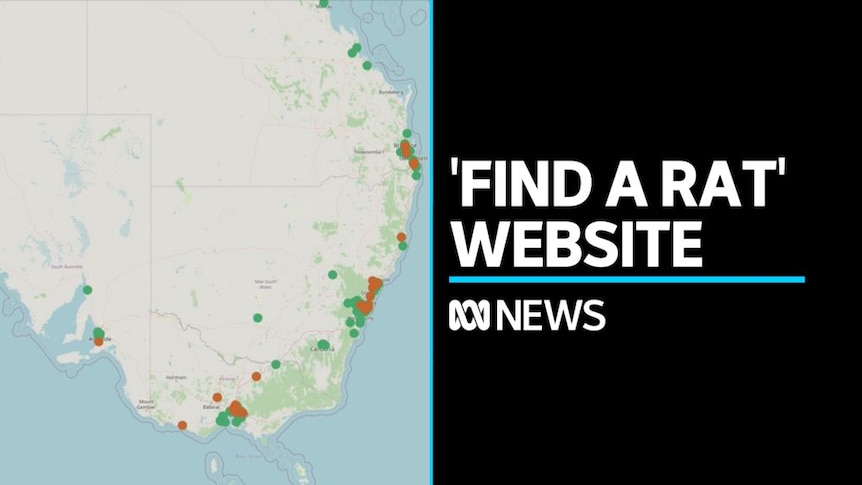 Loading form…