The pandemic has significantly affected the mental health of family members of patients with COVID-19, including high rates of posttraumatic stress disorder (PTSD), anxiety, and depression, new research suggests.
In a prospective cohort study of more than 500 individuals, those related to intensive care unit patients with COVID-19 acute respiratory distress syndrome (ARDS) had a significantly higher prevalence of, and were at increased risk for, PTSD-related symptoms 90 days after discharge than their peers who were related to ICU patients with non-COVID ARDS.
They also had a higher prevalence of depression and anxiety symptoms.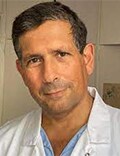 The results illustrate how the mental health of families has been adversely affected by strict isolation measures instituted at the height of the COVID pandemic, lead author Elie Azoulay, MD, PhD, professor of medicine at Diderot University and director of the Medical Intensive Care Unit, Saint Louis Hospital, Paris, France, told Medscape Medical News.
Such restrictions were unnecessary, Azoulay noted, adding that everyone, including healthcare professionals, benefits when families are allowed to interact with their loved ones in the ICU.
He added the study findings also emphasize the importance of social supports.
"We need to develop and really increase what we can do for family members"  of patients staying in the ICU, said Azoulay.
The findings were published online February 18 in the Journal of the American Medical Association.
Twenty-three ICUs in France
The study included adult family members of patients admitted with ARDS to 23 ICUs in France from January to October 2020.
Patients had a partial pressure of arterial oxygen to fraction of inspired oxygen ratio (PaO2/FiO2) of less than 300, and bilateral opacities on chest radiography not fully explained by cardiac failure or fluid overload.
Two trained clinical psychologists interviewed family members and patients by telephone a median of 112 days after ICU discharge. During this interview, participants completed the Impact of Event Scale Revised (IES-R) and the Hospital Anxiety and Depression Scale (HADS).
The IES-R score ranges from 0 (best) to 88 (worst) with a score of more than 22 indicating presence of PTSD-related symptoms of clinical concern. The HADS has separate subscales for anxiety and depression, with a score of 7 or greater on a 21-point scale indicating symptoms of anxiety or depression.
Family members also rated social supports on a scale from 0 (extremely limited) to 10 (extremely effective). Azoulay noted that social support is the subjective perception of the extent to which friends, mental health specialists, and others are available and helpful.
Investigators divided patients into two groups depending on whether or not the cause of ARDS was COVID-19. Causes other than COVID-19 mainly included community-acquired pneumonia and influenza.
The primary outcome was the prevalence of PTSD-related symptoms among family members. Secondary outcomes were the prevalence of anxiety and depression in family members.
The analysis included 303 family members of patients with COVID-19 ARDS and 214 family members of patients with non-COVID-19 ARDS. Almost half of the family members were spouses.
Those with family members with COVID were younger than the non-COVID group (median age, 50 vs 55 years). They were also less frequently allowed to visit the ICU (35% vs 88%) and more commonly received patient information by phone (84% vs 20%).
Better Strategies Needed
Results showed PTSD symptoms were significantly more common in family members of patients with than without COVID (35% vs 19%; difference of 16%; 95% CI, 8% – 24%; P < .001).
Anxiety symptoms were also significantly more common in the COVID group (41% vs 34%; difference of 8%; 95% CI, 0% – 16%; P = .05), as were depression symptoms (31% vs 18%; difference of 13%; 95% CI, 6% – 21%; P < .001).
About 26% of the hospitalized relatives died. PTSD symptoms were more common among bereaved family members of patients who died from COVID than of patients without COVID (63% vs 39%; difference of 24%; 95% CI, 7% – 40%; P = .008).
In the COVID group, significantly fewer family members reported having attended the funeral (77% vs 91%, P = .04). This could be because of concerns over transmitting the virus, the investigators note.
After adjusting for age, sex, and level of social support in a multivariable analysis, COVID-19 ARDS was significantly associated with increased risk for PTSD-related symptoms in family members (odds ratio, 2.05; 95% CI, 1.30 – 3.23; P =.002).
Other factors independently associated with PTSD symptoms were age, level of social support, and being male.
Factors associated with anxiety included having COVID-19 ARDS, age, being male, and level of social support. COVID-19 ARDS and level of social support were independently associated with depression.
Although isolation measures were implemented to prevent viral transmission during the pandemic, severely restricting family members from interacting with their sick loved ones in the ICU is "very destructive [and] deeply distressing," said Azoulay. "It's almost cruel."
Fear may be at the heart of the "psycho-trauma" experienced by family members, he said.
"I would say one of the main sources is fear of getting infected, fear of abandoning family members, fear of leaving the kids alone without any support, and fear of infecting others," he added.
Healthcare providers should develop strategies to better communicate with family members, who also feel a lot of guilt when they're unable to be with their sick loved one, said Azoulay.
"Element of Fear"
Commenting on the findings for Medscape Medical News, O. Joseph Bienvenu, MD, PhD, professor of psychiatry and behavioral sciences at Johns Hopkins Medicine, Baltimore, Maryland, called the study "solid" and noted the lead author is "a well-recognized clinical researcher."
It was "remarkable" that investigators were able to include a control group of family members of patients with ARDS not due to COVID, added Bienvenu, who was not involved with the research.
"It sounds like the bottom line is COVID adds an additional element of fear in loved ones," he said.
Bienvenu added this fits with his own clinical experience — and noted that some COVID-19 follow-up clinics now include family members in their assessments and care.
"I think this study nicely illustrates the utility of this," he concluded.
The study received funding from the French Ministry of Health. Azoulay reported receipt of personal fees from lectures from Pfizer, Gilead, Baxter, and Alexion, and institutional research grants from Merck Sharp and Dohme, Pfizer, Baxter, and Alexion. Bienvenu has disclosed no relevant financial relationships.
JAMA. Published online February 18, 2022. Full text
For more Medscape Psychiatry news, join us on Twitter and Facebook