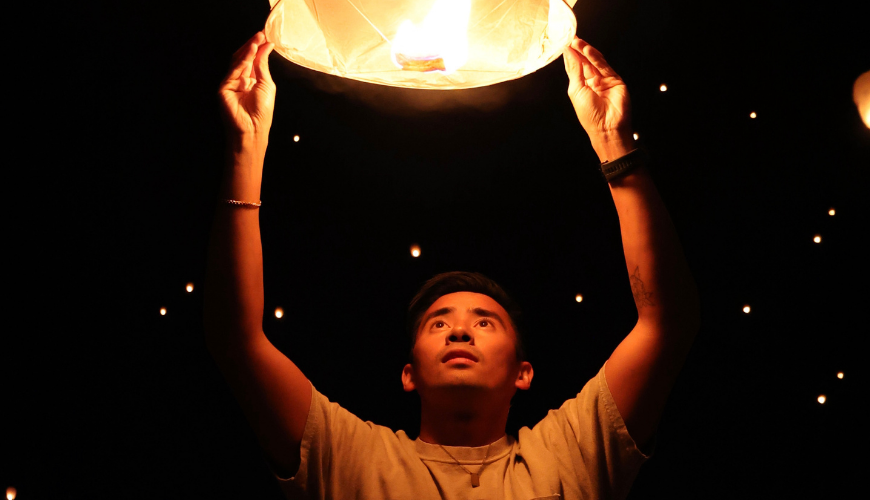 Real men don't get emotional when times get tough. Phrases like that are still the norm for how most of society views what it means to be masculine.
Instead of processing trauma, there is a stereotype for men to "go internal" and repress their emotions. But not for Midshipmen 1/C Justin Daus. He wants more people to talk about their emotions, particularly, well, men.
Daus is the host of Dinner with the Fellas, a University of San Diego podcast that debuted in February 2021.
He spends about 45 minutes just "talking with the boys." He and his guests wrestle with and pick apart what it means to be a man in today's culture. The podcast breaks down the notion that men keep their emotions bottled up, and instead, it provides men with a space to explore their feelings.
"Both men and women of various backgrounds have reached out to me and said we need to have more conversations like these," says Daus.
The podcast feels like a culmination of experiences Daus has had in his own life.
The senior is in his final semester at USD and is an NROTC Midshipman 1/C. Daus likes to say he's in his "final form," a reference only Pokémon fans might catch. It has been a long road for him to reach this stage of his life.
His mother, Maria, emigrated from the Philippines at the age of 22. She met and married Daus' father and they started their family in the Bronx, New York. His father, who was in the Air Force, was eventually transferred to Seymour Johnson Air Force Base in North Carolina while Maria was pregnant with Daus. The two split before Daus turned one.
After the separation, Maria wanted a fresh start with her kids, so they made what the family calls "the great trek out west" to Las Vegas, Nevada. Upon leaving the East Coast, Daus' mother worked as an ICU nurse while raising her three children by herself. 
Maria found the transition to Las Vegas natural since there was a large Filipino community and Catholic presence in the area. Daus says his father was absent from his life, but he still had a plethora of father figures within his community from soccer coaches to Scoutmasters.
"As I mature in age, I see the ramifications of not having a father figure, but I'm super blessed to see how hard my mother worked," he says. "She struggled, we moved homes several times, but she helped my sister, my brother and I go to school. These years instilled an awareness in me, but also showed me the importance of community."
Being the youngest of his siblings, Daus didn't want to add to his mother's financial burdens. His uncle, who served in the Navy, introduced Daus to the idea of attending the Naval Academy. It didn't work out for him. It turns out, poor eyesight can dash your Naval Academy dreams.
So, Daus began looking at ROTC programs through civilian schools. His older sister was attending USD, which happened to have exactly what he was looking for. Through ROTC, he would receive his undergraduate education while commissioning as an officer in the Navy upon graduation.
"I truly stumbled upon my purpose in life at that moment. USD provided me more opportunities than just the military," he says. "I didn't know that when I filled out my USNA application, but I'm thankful to have found that once I arrived here."
Now, Daus is finishing his studies in Industrial and Systems Engineering and Naval Science. He has also demonstrated what it means to be a Changemaker, becoming vice president in Associated Student Government, something he wouldn't have been able to do had things worked out with the Naval Academy.
"I love that I chose NROTC because it's like balancing two identities. By day you are this, by night you are that."
By "this" and "that," Daus is referring to turning on and off his military and civilian lifestyles. By day, he receives training pertinent to becoming a military officer. By night, he works a civilian job and goes home to do laundry and study for his next exam. 
"As midshipmen, we go over the customs and courtesies of the Navy while training to lead future sailors and marines. As college students, we still go about the usual "leaving the nest" practices of rent, cooking, cleaning, laundry, etc. We have the opportunity to fail and grow as we balance both lifestyles and we form relationships with others that are both in and out of the military."
Forming relationships is exactly what sparked Daus' idea to start a podcast.
Dinner with the Fellas happened after the tragic death of a fellow MECEP. The Marine Corps Enlisted Commissioning Education Program (MECEP) offers enlisted marines the chance to earn a bachelor's degree while maintaining active duty status. So, along with the midshipmen, there are MECEPs attending the university and training alongside them.
In November 2018, the battalion received word that one of the MECEPs had passed. The midshipmen later learned it was due to suicide. 
Daus points out that there is a mental health crisis throughout the armed forces. Since 9/11, four times as many United States service members and veterans have died by suicide than have been killed in combat, according to a study released in June 2021.
The report, compiled by the Costs of War Project at Brown University, found more than 30,000 active duty personnel and veterans who have served in the military since 9/11 have died by suicide. That's compared to the more than 7,000 killed in post 9/11 military operations. The research found the rates of suicide for both veterans and active duty personnel to outpace those of the general public.
To honor their fallen brother, the ROTC unit held a memorial service and the midshipmen came to support. Daus didn't know the MECEP personally but watching the man's mother and father grieve struck a chord in him.
"Something pushed me to go shake the father's hand and speak to the mother and tell her, 'I didn't know your son and he didn't know me, but I lost my father in a similar way. Because we share that connection, I truly am sorry.'"
Three years prior, Daus' father took his life by suicide. The MECEP's memorial was an example of him pushing forward and processing the grief of losing his father.
"I don't think I was emotionally mature enough to really grasp everything that happened with my dad back when I was 16, so that moment at the memorial service, when I was 19, was a huge turning point for me."
The bravery to be vulnerable in that moment formed a bond between Daus and the grieving mother. The two shared a desire to advocate for grief counseling for active duty personnel and veterans.
"There's this unfortunate culture that men have to be tough all the time. They feel they can't be vulnerable to process their grief because they will be perceived as weaker. This can be found in the military where traditional perceptions of strength and leadership are prioritized," says Daus. "Now, more than ever, I think there is so much more to being a leader. And that includes emotional intelligence, social awareness and being mindful of your shipmates' mental health. It is so much bigger than who can lift the heaviest or run the fastest."
So, Daus wanted to create a podcast that forms a space for male-identified people to talk about their struggles. In 2020, as vice president of the Associated Student Government, Daus and his team worked to advocate for student issues and concerns during the pandemic. This became one of them. 
Daus teamed up with key personnel from the Center of Health and Wellness Promotion, University Ministry and the Changemaker Hub. Together, they began chipping away at the tough men don't cry culture. 
In the first episode of the podcast, he spoke to USD alumnus and veteran Austin Galy, the associate director of the Mulvaney Center for Community, Awareness and Social Action. Galy, who was former Air Force Special Forces, shared a lot of the ideals and sentiments that Daus did.
"I want to convey the importance of mental health and not make it a taboo topic. So many young people are lost due to mental health-related concerns. Anxiety, disassociation, depression, bipolar disorders, eating disorders, obsessive-compulsive disorders, you name it," says Daus. "It's a growing problem and it's important we take care of ourselves. Thankfully, there are a plethora of men like Austin who support me and who want to go against that grain and stigma."
Daus plans to continue to help others throughout his career, which now enters a new stage. In mid-October, Service Selection happened for all graduating midshipmen and Daus was selected as a Student Naval Aviator. His father was a flight surgeon, and, thanks to that relation, he has had his sight on the air ever since a young age. Upon graduation, Daus will transition to flight school in Florida.
"I feel incredibly blessed," reflects Daus. "Whether it's my mom packing up all of our bags and moving us cross-country or myself finding my path … I'm thankful. I have peers back home who are no longer with us so this is a true blessing to even be here."
For this midshipman, the next chapter is sure to be an exciting opportunity, one that will be firmly rooted in this moment.
— Kelsey Grey '15 (BA)