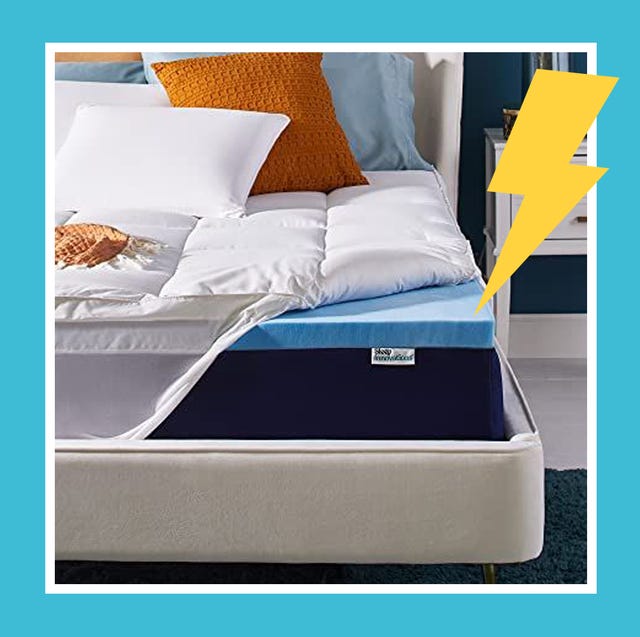 Christine Giordano
Back pain can be a serious downer—it makes almost all everyday tasks harder, like walking, climbing stairs, and even sleeping. That includes how well you snooze without waking up in the middle of the night and how quickly you can nod off. Not surprisingly, chronic low back pain can make both worse, according to a review in The Clinical Journal of Pain. To make sure that ache doesn't keep you up all night long, creating a good environment for sleep with the right bed accessories is key. Enter: the best mattress toppers for back pain.
You may know of the best mattresses for back pain, but what about mattress toppers? They are an additional layer you can pile on top to make your mattress plushier and comfier. Whether that translates to better sleep and effective back pain relief is unclear, though. So far, only one small sponsored study has shown that a high-rebound mattress topper made of firm plastic fiber may lead to a decline in core body temperature and promote deep sleep. But it's worth noting that the subjects are healthy adults who don't have back pain, and this is research conducted by a mattress topper company.
Compared to an expensive mattress, a mattress topper may seem like an attractive alternative. But for back pain, a mattress still gives you a more solid foundation, according to Soo Yeon Kim, MD, the medical director of musculoskeletal medicine and an assistant professor of physical medicine and rehabilitation at Johns Hopkins Medicine. "It's much thinner than a mattress itself, so a mattress topper gives more of a cushion, but it doesn't give much support," she says. It can add some softness or provide better contour to your body shape. It won't do anything for your back pain, though.
That said, Dr. Kim thinks someone who owns an extra-firm mattress and suffers from back pain may benefit from using one. "Having a mattress topper to soften it up can actually help, in my opinion, because medium-firm mattress is recommended for sleep quality and pain," she explains. You may also want to consider a mattress topper if you have a mattress that's so firm that it doesn't help with your pain.
If you want to try a mattress topper for back pain, here are some of the best choices available online, according to reviews.
Advertisement – Continue Reading Below
1
Best For Cooling
oaskys Cooling Pillow Top Mattress Topper
This soft mattress topper features a square jacquard design rather than the diamond quilting pattern commonly found in a pillow top mattress topper. The manufacturer says it prevents the filling from moving around. Made with a breathable fabric, it will keep you cool and asleep the entire night.
The plushiness of this cooling topper can soften a firm mattress, which makes it a great option for back pain and people who tend to sweat a lot while snoozing.
One happy reviewer said, "It does have cooling properties due to it being able to breathe, I no longer have issues sweating at night. If you want to transform your pillow top mattress, non-pillow top, foam mattress, or even just have issues with controlling heat, get this product!"
2
Best Pillow Top Mattress Topper
COONP Extra Thick Pillow Top Mattress Topper
For maximum comfort, look no further than this mattress topper filled to the brim with 3D snow down alternative filling. If you're prone to sweating through your pajamas, the high-quality, breathable cotton in this mattress topper will tone down your temp.
This plush mattress topper will hug your every curve and distribute weight evenly, making you forget about that nagging back pain that's been keeping you up.
A satisfied customer wrote a five-star review on Amazon, saying, "We were looking for something soft and fluffy to help balance out the stiffness of our mattress. I'm so glad I went with this one! No more hip pain or back pain. Now I can't wait til the end of day to jump on, and am pulled out by my daughter to make breakfast in the morning. Love it so much!"
3
Best Memory Foam Mattress Topper
Sleep Innovations Cooling Gel Memory Foam Mattress Topper
With a dual layer of gel for cooling and memory foam for support, this mattress topper checks all the boxes of everything you want. Providing medium support with this hybrid material, this mattress topper relieves pressure points, eases back pain, and caters to every sleep position.
A five-star reviewer wrote, "This memory foam topper was a god-send in turning a horribly uncomfortable, rigid dormitory mattress into a comfy night-time experience. My son preferred sleeping on the floor before this arrived. His text (and I quote): 'memory foam is the best thing ever invented.' Enough said."
4
Best Budget
EASELAND Pillow Top Mattress Topper
At $39, you're definitely getting your money's worth with this mattress topper. Jam-packed with alternative filling, it will add a lot of softness to a firm mattress, which makes it a great addition for back pain relief. It's also made with 300-count cotton that can absorb sweat and keep things cool as you sleep.
A rave review of this product on Amazon reads, "We purchased this mattress pad, and it's a night and day difference! I love how thick it is, without leaving wrinkles underneath the comforter!! It's very durable and extremely comfortable!! It used to take me such a long time to fall asleep, and now I literally fall asleep in minutes."
5
Best For Back Sleepers
RECCI 3 Inch Memory Foam Mattress Topper
This mattress topper boasts 100 percent memory foam for optimal softness and support, the best of both worlds for people with any type of back pain. You'll feel like you are drifting off on a cloud and leaving your aches behind. It's perfect for back sleepers because it the support they need in their lower back area.
Of more than 3,000 reviews, one happy buyer says, "The bamboo cover is really nice and high quality (and has a slip-resistant side), as is the foam mattress itself. The real test of course is the sleep test—heavenly! I'm so glad we decided to replace our old topper because I had no idea what we were missing!"
6
Best For Side Sleepers
Sleep Innovations Dual Layer Enhanced Support Gel Memory Foam Mattress Topper
Matching a soft pillow top layer with cooling gel memory foam, this Sleep Innovations mattress topper provides side sleepers with pressure point and back pain relief and temperature control all night long.
A reviewer who gave this product five stars says, "I am still bewildered some mornings when I wake up with zero lower back pain & less aching in my body. If for some reason this one ever wears out or is destroyed, I would pay twice the price for another one. That is how much I love this thing!!"
7
Best For Allergies
LUCID Ultra Plush Mattress Topper
Consisting of a three-inch layer of alternative filling, this hypoallergenic mattress topper does not have any of the odors, allergens, or sharp quills that comes with a traditional down mattress topper. It also has a box stitching design that ensures the filling is evenly spread out under you, offering a uniform plushy experience throughout. If you're in the market for a mattress topper because your mattress is making your back pain worse, try out this super soft option.
One reviewer who loved this topper wrote on Amazon, "We recently purchased a king size Tempurpedic mattress. And I just love it. However, my husband who had both hips replaced found the mattress just a little too firm. Tempurpedic mattresses are pretty expensive and instead of replacing it, I thought I'd give this a try. This is PERFECT! And honestly coming from someone who wouldn't give up my Tempurpedic mattress for anything I am so glad we purchased this topper."
8
Best Egg Crate Mattress Topper
Best Price Mattress Egg Crate Memory Foam Mattress Topper
What sets this egg crate mattress topper from the rest is the many infusion options available. You can choose from scents like lavender, aloe, and green tea.
Also, this mattress topper is made with a body-conforming memory foam that reacts and molds to your body after you lie down. It evenly distributes the weight, relieving your pressure points and back pain.
A satisfied customer on Amazon says, "My old mattress feels brand new, I'm sleeping better, and I don't wake up with hip pain. My dog seemed to enjoy it too. While the lavender smell was overwhelming when I took it out of the package, now I don't smell any lavender at all. I also don't notice that it changed the temperature at all by making it cooler or warmer."
This content is created and maintained by a third party, and imported onto this page to help users provide their email addresses. You may be able to find more information about this and similar content at piano.io
Advertisement – Continue Reading Below