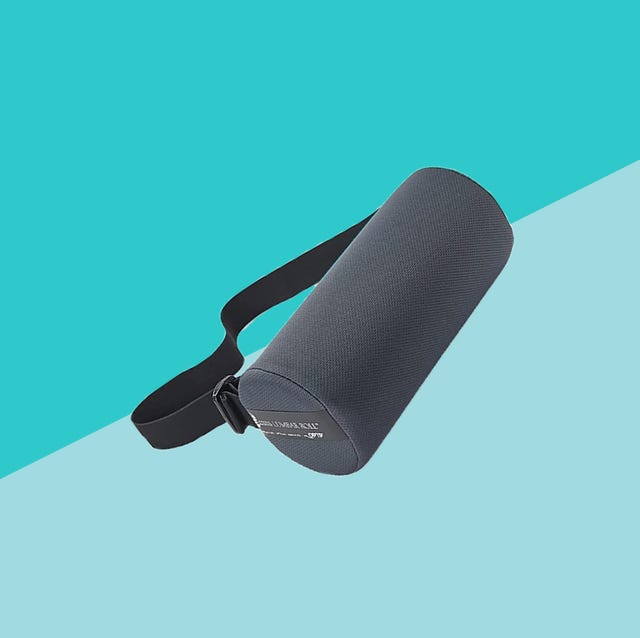 Amazon
People are spending more time seated in front of their computers than ever before, which can put a lot of strain on the spine. Enter lumbar support pillows—these back bracing pillows have become increasingly popular amongst those who struggle to get comfy while sitting for long periods of time at their desk, in their car, or even while flying. Although they aren't a miracle cure for lower back pain and posture problems—you can still find yourself slouching while using one—a lot of people see some degree of relief from adding a lumbar support pillow to their chair.
Lumbar support pillows are thought to help maintain the normal lordotic curvature of the lumbar spine while one sits, explains Shyam A. Patel, M.D., Assistant Professor of Orthopedic Surgery, NYU Long Island School of Medicine. "A lot of chairs these days have lumbar support built-in so they're not always necessary," he says. But, they can help.
The most beneficial lumbar support pillows are going to be the ones that are designed for this specific use, according to Suzanna Wong, D.C., licensed Doctor of Chiropractic and a health expert. Unfortunately, that means not any old pillow will do. "What makes them different from a normal pillow is that they are shaped to follow the natural curve of your back, and they are sturdier than a normal pillow to be able to keep your spine neutral when you are using them."
How we chose the best lumbar support pillows
We consulted Dr. Patel, Wong, Lara Heimann, P.T., N.D.T., ERYT-500, and poured over countless user reviews and testimonials to determine the best lumbar support pillows.
Ahead, find the best lumbar support pillows recommended by experts, so you can find some lower back pain relief, quick.
Advertisement – Continue Reading Below
Best Overall Lumbar Support Pillow
The Original McKenzie Lumbar Roll
Easily attaches to office chairs, automobile, and airline seats.
Moisture-Wicking fabric
Has adjustable density options
Some users say it doesn't hold up for daily use
With almost 8,000 reviews and a 4.5 star rating, it's easy to see why both Dr. Patel and Heimann recommended this roll-style pillow. While Dr. Patel says that the best way to prevent back pain is to make sure you're frequently taking breaks and changing your posture, the McKenzie Lumbar Roll is a good option for those looking for a little extra help getting relief. Customers love this pillow for the ergonomic support it offers, helping to provide both comfort and pain relief.
Best Value Lumbar Support Pillow
Back Cushion
Open-Air grid design keeps users cool
Retains shape over time
Small design makes it easy to transport as needed
Easy to clean
Some users note an unpleasant smell
Although Dr. Patel says that slouching isn't inherently bad for you, it is thought to add more pressure on your intervertebral disc biomechanically, which can cause problems down the line. That's why he also suggested the Purple Back Cushion for those seeking a little help while they're seated. This pillow comes with a machine washable cover that helps you keep the insert clean and attach it to your chair back.
Best Lumbar Support Pillow for Car
Lumbar Support Pillow for Office Chair Back
Breathable mesh cover
Washable cover
Designed to adjust to different shapes and sizes
Some users report that it's too large
Get a better fit with this moldable foam pillow by Everlasting Comfort. The unique memory foam design allows users of all shapes and sizes to get more tailored support. "The adjustable straps on it again make it really easy to position," explains Wong, which can be an integral part of getting adequate support from your lumbar pillow.
Unfortunately, this may not be the best option for those on the petite side. Wong says the pillow can feel too large for some.
Best Lumbar Support Pillow for Office Chair
Ergonomic Black Lumbar Support Pillow
Made with memory foam to keep its shape
Uses breathable fabric
A great option for your office chair, the Qutool memory foam back cushion offers a full day of support and pain relief. Wong says that this pillow tends to be on the firm side, so this could be a good option for those looking for all-day relief. "Whether you are working at home, or from an office, adding this to your chair helps to ensure that your back is kept in the right position."
The memory foam design makes it adaptable to people of different sizes and the breathable material ensures you won't get hot while you're using it.
Best Lumbar Support Pillow for Travel
Deluxe Coccyx Seat Cushion with Memory
Comes with two different pillows to customize support
Has straps to keep your pillows secure
Can be purchased separately if you only want the one pillow
The pillow set cannot be returned if it doesn't work for you
If you're looking for a little more bang for your buck, Heimann suggests opting for the dual support of the Xtreme Comforts Deluxe Coccyx Seat Cushion. This comes with two pillows that can help with posterior pains and posture issues. "Xtreme comforts is a popular brand that meets all of the requirements—memory foam, breathability, and support straps for your office chair," she says.
The pillows come with a traveling case that will let you bring them with you wherever you go. The breathable fabric is also machine washable which can help keep your pillows in tip-top shape.
Best Lumbar Support Pillow for Sleeping
Lumbar Support Back Pillow
Affordable
Adjusts to both your weight and temperature
If you're someone who's worried about getting overheated while you're using a lumbar pillow, the ComfiLife pillow may be the best choice. With breathable 3D mesh that is both heath and weight responsive, this pillow promises that you'll always be cool when it's warm out and warm when it's cold. Heimann also says that the weight responsive aspect of the pillow will allow it to mold to your unique body shape depending on the amount of heat and pressure applied.
Best Lumbar Support Pillow for Reclining Chairs
Memory Foam Lumbar Support Back Cushion
Users have 60 days to test the pillow
Machine washable fabric
Breathable fabric
Some users say it's bulky
The LoveHome Memory Foam Support pillow can be secured to most types of chairs thanks to its adjustable straps, meaning you have a better ability to position it correctly so that it fits most users. "It's ergonomically designed to provide really good support for your back, although some people can find it slightly bulky to start with," Wong says.
Great for those looking for a memory foam option that can help alleviate pain as well as improve posture.
Best Basic Lumbar Support Pillow
Lower Back Pain Lumbar Pillow Support Cushion
Designed with the help of a PT
Made from clinical grade memory foam
Some users say it's more for prevention than pain relief
If you're not sure exactly what kind of support you need, you might want to check out the Desk Jockey Lower Back Pain pillow. It's a highly rated memory foam that doesn't come with too many bells or whistles. Due to its size and make, it's easy to transport from seat to seat. And, this pillow is great for someone just looking for a small amount of support while they're sitting.
How to to find the best lumbar support cushion
Here's what Wong says you need to be considering while on the hunt for a new lumbar support pillow.
Size and fit: The pillow should fit the curve of your spine without pushing your back out of its proper position.
Position: For some people, lumbar support pillows that don't keep them in the right position can cause them more problems. "This is why it is so important to test whether they are right for you or not. You don't want it to be too big or too small," she says.
Material: Lumbar support pillows can reflect heat back to you, which means you may feel extra hot. "A mesh-backed lumbar support pillow improves the airflow between the pillow and the person using it, meaning you won't sweat as much and feel uncomfortable," she adds.
This content is created and maintained by a third party, and imported onto this page to help users provide their email addresses. You may be able to find more information about this and similar content at piano.io
Advertisement – Continue Reading Below