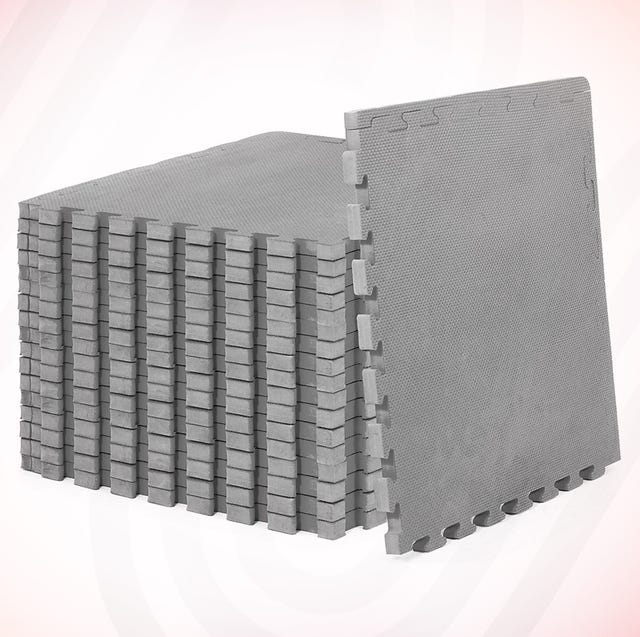 Staff, Courtesy of Prosource Fit
Home gyms are a great way to save money on gym memberships and eliminate time-wasting commutes, but heavy workout equipment can cause undue wear and tear on your floors fast. Home gym flooring is essential if you plan on using any kind of heavy weight training equipment or cardio machines, especially if you're renting and can be held accountable for damaged hardwood or vinyl floors. In addition to protecting your floors, home gym flooring—which typically comes in either tiles or as a single mat—allows you to comfortably perform floor-based flexibility and yoga routines, too.
Whether you're covering a whole room or just a corner, home gym flooring comes in a wide range of sizes, colors, and styles, so it's easy to find the perfect one to suit your needs.
Best Home Gym Flooring
What to Consider

When choosing your gym flooring, you should always take the time to accurately measure your space—don't just eyeball it—so you don't end up spending money on extra pieces you don't need. Luckily, all flooring options will clearly state the dimensions of each piece, as well as the total square footage they'll cover. Just multiply the length and width of your space to get your specific square footage.
You should also think about the type of flooring that would be most convenient for you. While interlocking tiles are a bit easier to customize to your space, they'll take a decent amount of time to deconstruct if you plan on removing the flooring regularly. Single-piece mats, on the other hand, are simple to roll up and store away, but they're usually more expensive than tiles, and larger ones can be very heavy.
You should also think about what you're going to be using the flooring for. If you plan on dropping heavy barbells or kettlebells on it, make sure to go with a heavy-duty option. If you want to primarily use the flooring for yoga or similar ground-based flexibility and conditioning workouts, make sure the flooring is comfortable enough to roll around on, and can also stand up to the exercises you'll be performing.
How We Evaluated
We've used both interlocking flooring tiles and large mats for our home gyms in the past, and combined with our time spent at commercial gyms, used this hands-on experience to help select the best options for this list. We also researched online review sites and combed through user reviews to ensure that we weren't leaving out any popular options, while excluding those that appeared to be of low quality or had frequent quality control issues. Since buyers will have different requirements for their flooring depending on their preferred type of exercise and the space they'll be working out in, we did our best to include a wide range of sizes, thicknesses, and durability.
Advertisement – Continue Reading Below
1
Best Low-Cost Option
Puzzle Exercise Mat
Key Specs
Dimensions: 24 x 24 x .5 inches
Pieces: 6
Total Square Feet: 24
Material: EVA foam
Color: Blue
Edge Pieces: Yes
If you're on a tight budget but still want a durable and easy-to-assemble gym mat, this ProsourceFit Puzzle Exercise Mat could be just what you're looking for.
This low-cost flooring comes in three colors—black, gray, and the blue pictured here—and its non-skid tiles are perfect for maintaining a good grip while performing flexibility or yoga routines. Its half-inch thickness should provide a nice amount of cushion while still giving you a solid foundation for free weights. The included edge pieces allow you to customize the shape and size while maintaining a neat and clean look.
Easy to clean
Good grip
Comes in three colors
May not be durable enough for heavy-duty use
2
Best Extra Thick Option
Extra Thick Puzzle Exercise Mat
Key Specs
Dimensions: 24 x 24 x 1 inches
Pieces: 18
Total Square Feet: 72
Material: EVA foam
Color: Black
Edge Pieces: Yes
The 1-inch thickness of these Prosource tiles would be ideal for anyone looking for a little extra cushion, especially when performing ground-based mobility routines. This thickness also provides a good amount of durability, and means these tiles should be able to withstand heavy weights and foot traffic. The textured surface prevents accidental slipping, and the water-resistant material is easy to clean, as well.
These tiles are available in blue and gray, and can also be ordered in a range of sizes. They are on the expensive side, at nearly $2 per square foot, so keep that in mind if you're on a tight budget.
Thicker than most
Available in blue, gray, and black
3
Best Mat Option
Premium Large Exercise Mat
Key Specs
Dimensions: 6 x 12 feet x .28 inches
Pieces: 1
Total Square Feet: 72
Material: High density foam
Color: Blue
Edge Pieces: N/A
This MRO mat may be expensive, but for those who want the versatility and convenience of a single mat, the extra cost could be worth it. Its 72 square feet should be large enough for two people to use, and its triple-layer design makes it both durable and comfortable.
However, if you're looking for a mat that can be easily rolled up and stored after every workout, keep in mind that this product weighs about 44 pounds, so it's not quite as simple as putting away a standard yoga mat.
Very expensive
Thinner than most options
4
Best Wood Pattern Tile
Premium Soft Wood Print Foam Flooring Tiles
Key Specs
Dimensions: 24 x 24 x .75 inches
Pieces: 25
Total Square Feet: 100
Material: EVA foam
Color: Natural wood flooring
Edge Pieces: Yes
Looking for home gym flooring tiles that have a bit more style than the ones at your local gym? These IncStores flooring tiles are available in a wide range of natural wood patterns and colors, providing a warm and homey look and feel to any space. Plus, this set includes a soft case for storage if you decide to take them up.
At nearly $3 per square foot, these tiles are considerably more expensive than most options, but if you need the pattern range and durability that they offer, it could be worth the investment.
8 patterns to choose from
5
Best Heavy-Duty Mat
Rubber Mat Flooring
Key Specs
Dimensions: 4 x 6 feet. x .75 inches
Pieces: 6
Total Square Feet: 144
Material: Rubber
Color: Black
Edge Pieces: No
If you plan on placing benches and heavy weight racks on your floor—and durability is your priority—then these heavy-duty DWC mats could be a great choice. They're designed to stand up to the abuse of a busy weight-training gym, and would be ideal for a home CrossFit setup.
This six-piece set includes 6 by 4–foot mats constructed of recycled rubber tires. The mats can be customized to fit your space and are easily trimmed and shaped with a box cutter. These mats are expensive, but the protection that they offer—to your existing flooring and your equipment—is probably worth the price.
Some users experience and temporary chemical odor
6
Best Light-Duty Option
Multipurpose Floor Tiles
Key Specs
Dimensions: 24 x 24 x .5 inches
Pieces: 16
Total Square Feet: 48
Material: EVA foam
Color: Red
Edge Pieces: Yes
They're probably not durable enough for heavy-duty use, but these foam floor tiles could be perfect for those who just need a light-duty covering for their home gym. Plus, since they come in 17 different colors, they would be easy to match to a kids' playroom, as well. These tiles are easy to assemble, include necessary edge pieces to guarantee a smooth perimeter, and are easily cleaned with soap and water.
We Sell Mats recommends securing these mats to the floor with tape if you plan to use them as a workout surface, so keep that in mind.
Available in 17 colors
Easy to clean
May not be durable enough for heavy-duty use
7
Best for Small Areas
Exercise Equipment Mats
Key Specs
Dimensions: 4 x 4 x .5 inches
Pieces: 6
Total Square Feet: 8
Material: Rubber
Color: Black
Edge Pieces: No
If you only need to protect the flooring underneath your heavy equipment, like an exercise bike, rowing machine, or weight bench, then these small tiles could be a convenient and cost-effective option. They won't take up any more space than you actually need, and are designed to absorb and reduce vibration, making them perfect for apartment dwellers and early morning exercisers.
Plus, since you only need a few, they're much more affordable than larger tiles and mats. Just make sure to count the feet on your machines to make sure you'll have enough (Pelotons have 6 feet, FYI).
Low-cost
Covers only the area you need
Not full-coverage flooring
8
Best Heavy-Duty Tile
Impact Tiles
Key Specs
Dimensions: 24 x 24 x .75 inches
Pieces: 10
Total Square Feet: 40
Material: Rubber-topped EVA foam
Color: Black/blue
Edge Pieces: Yes
These tiles won't offer the sponge-y and cushion-y feel of all-foam tiles, but if your top priority is a rugged, heavy-duty product, they could be perfect for you.
Available in four colors, these tiles are topped with a layer of stiff rubber, making them ideal for supporting both free weights and users who want to perform yoga, foam-rolling, or martial arts. It's worth noting that the rugged construction of these tiles makes them much more difficult to trim than other options, and you'll probably need a power saw to cut them down to size.
Extremely sturdy construction
Rubber bottom still provides cushioned support
This content is created and maintained by a third party, and imported onto this page to help users provide their email addresses. You may be able to find more information about this and similar content at piano.io
Advertisement – Continue Reading Below