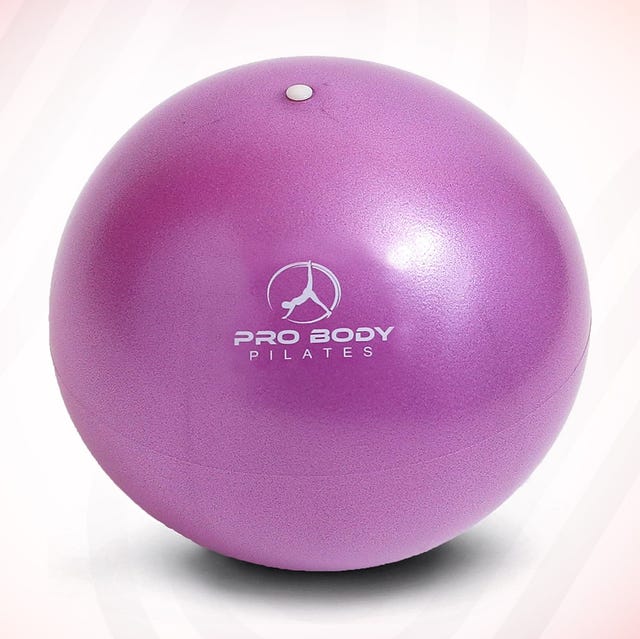 Staff, Courtesy of ProBody Pilates
An exercise ball is one of the most affordable and versatile pieces of workout equipment you can add to a home gym. Exercise balls are great for people of all fitness levels, can be used for everything from weight lifting to yoga, and come in a wide variety of sizes.
Exercise balls can be a a great way for runners to work on core stabilization techniques, and can even function as an office chair, helping you strengthen your back, engage your core, and make sitting at a desk all day a bit more tolerable. If you travel a lot, they're super easy to deflate, pack away in a suitcase, and blow up again when you plan to use them once you've arrived at your destination.
While most exercise balls look pretty similar, there are some key differences that will help you choose the one that's right for you.
How to Choose an Exercise Ball
When looking for an exercise ball to add to your workout routine or home office, you want to make sure that you get one that will fit both your body type and your needs in terms of its usage.
One of the most important things to consider when buying an exercise ball is the weight limit. While most balls will be able to hold over 300 pounds, there are options that can support up to 2,000 pounds. While a weight limit this high may seem overkill, it will ensure that your exercise ball won't pop or leak air, even during periods of heavy use. This is particularly important if you plan on using it over long periods of time, like if you're using it in lieu of a traditional office chair.
Also consider the size of the ball. Most exercise balls will come in various sizes, each of which correlates to a particular height range. It's always better to choose a ball that's on the smaller side over one that's too tall, since you don't want to find yourself having trouble getting on the ball or struggling to have your feet touch the ground. Most balls will have a key that shows the proper size for each height range. There are also much smaller balls used for practicing Pilates, which will range between 12 and 14 inches in height, and are essentially one-size-fits-all.
How We Selected
To determine the best exercise balls on the market, we looked at expert-tested reviews from trusted sources like Prevention and Insider. We then took into account price, materials, size, firmness, and durability. Finally, we consulted more than 116,000 reviews, written by people who've bought these models on sites like Amazon, to bring you the exercise balls below.
1
Best Overall
Exercise Ball
If you're looking for a classic, reliable exercise ball, you can't go wrong with this model from URBNFit. This non-slip exercise ball will set you back just $27, and it comes in five different sizes and 11 different colors. This exercise ball is made from PVC, meaning it can withstand heavy-duty use without losing air or popping.
2
Best Budget Option
Anti-Burst and Slip-Resistant Exercise Ball
This is one of the most affordable exercise balls on our list at only $14. It has an anti-slip design and is anti-burst, though reviewers say it can lose a bit of air when in use, so you may have to pump it up every now and then.
It is available in sizes S through XXL, and comes in seven different colors. It also comes with a foot pump for easy inflation.
3
Best Extra Large Ball
Extra Thick Professional Grade Exercise Ball
If you're looking for a particularly large exercise ball, you won't be disappointed with this model, which is big enough for people up to 6 feet, 9 inches tall. It also has an anti-burst design and can hold over 2,200 pounds. This model comes with a hand pump that makes even the largest balls easy to inflate.
The one issue some customers noticed is that some larger balls had a bit of an egg shape to them instead of being completely spherical.
4
Best Mini Ball
Small Exercise Ball
This mini exercise ball is our tiniest option at only nine inches, but it's the perfect size for practicing Pilates. The surface is smooth but anti-slip, and the ball has an anti-burst design. Unfortunately, this model does not come with a pump, but it can easily be inflated with a straw or a hand pump.
5
Most Durable
Extra Thick Yoga Ball
This ball is made from thick, nonslip textured PVC, which means that it won't slide out from under you when you're using it, and it won't burst—especially since the weight limit is over a ton.
It comes in five different sizes—ranging between 14 and 33 inches—and it has a foot pump for easy setup. It also comes with a 30-day return policy and a 12-month warranty.
6
Best with Resistance Bands
Exercise Ball Chair
You won't have to worry about your exercise ball rolling away with this chair from Mantra Sports, which comes equipped with a ring to keep it—and you—in place. It also features resistance bands that attach to the base, and comes with a guide on exercises that you can do with the ball.
If you don't want to use it in a stationary position, this ball can be used without the base as well, and it comes with an easy to use foot pump that makes blowing it up a breeze.
7
Best Chair
Ultimate Balance Ball Chair
While you can use practically any standard exercise ball as a chair, this one makes doing so a bit more practical, thanks to the addition of wheels and a backrest.
This is a great way to transition to using an exercise ball without diving in headfirst. It will still help you engage your core without completely leaving you to fend for yourself, and it has the option of a swivel or static base, that latter of which will give you more stability.
It can hold up to 300 pounds and is anti-burst, so you never have to worry about it popping on you.
8
Best for Kids
Stay-N-Play Children's Balance Ball
Whether you need a comfortable chair for your kids to do their homework on or want to give them an alternative to a traditional dining room chair at meal times, this kid-friendly exercise ball allows your little one to work more comfortably at a desk or table. Not only is it super cute, but it also has five legs that flatten out when sitting on it, help to provide stability and keep it from rolling around.
It comes in sizes for kids aged 5 to 7 and 8 to 11, is available in 12 colors and design options, and can also be bought in a multipack of four.
This content is created and maintained by a third party, and imported onto this page to help users provide their email addresses. You may be able to find more information about this and similar content at piano.io