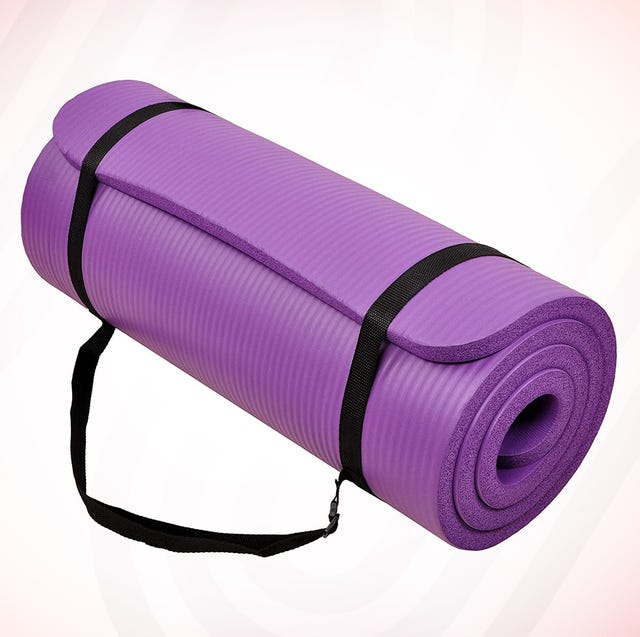 Staff, Courtesy of BalanceFrom
Whether you're looking for a way to build out your home gym or are assembling accessories to bring to your next fitness class, an exercise mat can make any workout quieter and more comfortable. Exercise mats create a soft, grippy surface underfoot that helps protect your body—and your floors—and can even make floor exercises easier to perform by limiting how much you slip around.
Exercise mats range in size from those as small as an average yoga mat to ones that cover the entire floor of a room, and can be as slim as a quarter-inch or up to multiple inches in thickness. While most exercise mats don't have a ton of bells and whistles to choose from, everything from sizing to materials can determine which mat is best for your particular workout needs. Look below for our favorite exercise mats on the market today.
Best Exercise Mats
How We Selected
To find the best exercise mats among the many options on the market, we researched the most popular models available and considered price, material, weight, and durability. We looked at both expert reviews and more than 82,000 customer ratings, written by people who've bought these models on sites like Amazon, to settle on the exercise mats you'll find below.
Advertisement – Continue Reading Below
1
Best Overall
GoCloud All-Purpose Extra Thick Exercise Mat
Key Specs
Size: 71 x 24 x 1 inches
Materials: Foam
If you're looking for an exercise mat that's great for a wide variety of home and gym-based workouts, look no further. This exercise mat is not only an impressive inch thick, but it is also lightweight, made from high-density foam, and has an easy-to-use strap that makes it easy to transport. It is the size of a standard yoga mat, and the surface is easy to clean with soap and water.
Slightly grippy to the touch and resilient against wear and tear, it provides cushion without giving too much, keeping you from slipping while you exercise.
2
Best for Small Home Gyms
Fitness Mats
Key Specs
Size: 2.2 x 4 feet; 2.2 x 6 feet
Materials: Latex-free Advanced Polyurethane Technology (APT)
While it may be expensive, this high-quality mat is well worth its steep price. Though super plush and soft to the touch, this mat is still incredibly durable. It is puncture-resistant, antimicrobial, and has a beveled edge ensuring that it won't roll up while you're working out. Since this one is quite large and doesn't roll up like a yoga mat, it can be a bit difficult to move, so make sure that you have enough space to make this a permanent installation.
3
Best for Fitness Classes
Training Mat 2.0
Key Specs
Size: 71.26 x 24.02 inches
Materials: High-density foam
This training mat is great for everything from yoga to floor exercises to core work. It is on the thinner side, which makes it easy to roll up super tight, and ensures that it won't be too cumbersome to carry or take up too much space when stored. Although it is thin, it's made from high-density foam, so it will give you a decent protective layer even on hard surfaces. Since it has a carry strap, it's also great for taking to fitness classes.
4
Best for Travel
Yoga Mat Folding Travel Fitness & Exercise Mat
Key Specs
Size: 68 x 24 x 0.08 inches
Materials: PVC
If you travel a lot or want a mat that takes up virtually no space, this folding option could be the perfect fit. Unlike a traditional mat, this one folds up to approximately the size of a few sheets of paper. It's made from an almost tacky, grippy material, which makes it nonslip on any surface.
One thing worth noting with this model is that it should be kept in a mat bag because it can become brittle and fade if left in the sun for long periods of time.
5
Best Floor Cover
Puzzle Exercise Mat
Key Specs
Size: 25 x 25 inches x 0.5 decimeters; packs range in size from 24 square feet to 144 square feet of coverage
Materials: Foam
Want to make your whole floor into a mat? These puzzle mat pieces make it possible. They're a great option if you're building a home gym, protecting you, your equipment, and your floors from undue wear and tear. They come in multiple thicknesses including 1/2 inch, 3/4 inch, and 1 inch, and depending on the size of the pack you choose, can cover 24, 48, 72, 96, or 144 square feet of space.
6
Best for Hot Yoga
Luxury Cork Yoga Mat
Key Specs
Size: 80 x 26 inches x 6.5 millimeters
Materials: Cork, rubber
If you're looking for a more sustainable exercise mat option, consider a cork mat like this one. Cork is naturally anti-microbial, and while it can be slightly slippery when dry, it reaches its grippy potential when you get it a little bit sweaty. At 8.8 pounds, this one is a bit heavy, so you might not want to tote it around with you, but it can make a great addition to your morning yoga practice at home.
7
Best Large Mat
Large Exercise Mat
Key Specs
Size: 72 x 48 x 0.28 inches
Materials: Polyvinyl chloride
This is an awesome option if you need to cover a large amount of space but don't want to spend time piecing together individual tiles. This mat measures four by six feet, so it's definitely large enough for floor exercises, HIIT workouts, or floor protection under an exercise machine. It's also double-sided and covered in grippy material that will keep it from sliding without being too abrasive on your hands. It's also nontoxic and helps muffle both noise and vibration.
This content is created and maintained by a third party, and imported onto this page to help users provide their email addresses. You may be able to find more information about this and similar content at piano.io
Advertisement – Continue Reading Below